A team of UPM students (Pablo Arias, Carlos Gómez, Laura Gómez, Fernando González, and Marta Martín), led by professor Manuel Alvarez-Campana, has been awarded by Telefonica for their application on Smart Emergency Management presented at Hack For Good 2016. Using the data collected by a distributed network of sensors, the application is able to determine where people are located within a known environment (i.e. a building).

To probe the effectiveness of the solution, the students took a data set collected during December 2015 at the School of Telecommunication Engineers (ETSIT-UPM). During the Hackaton sessions, they developed an application that processed the data in order to estimate the location of Wifi devices. Then, they developed a web based graphical user interface that shows the distribution of the devices within the building along the time.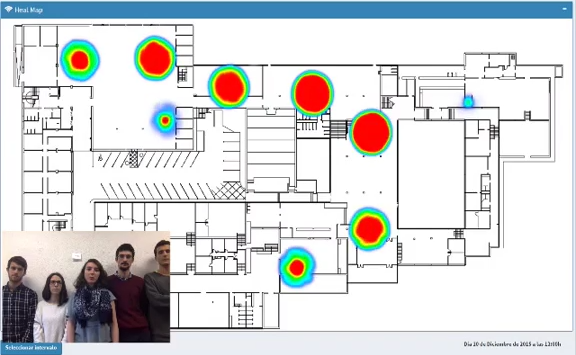 The Smart Emergency application has been developed within the framework of UPM's City of the Future initiative. More specifically, it has been based on the data collected by the sensor networks of the Platform for Experimentation on Smart Citties deployed on the Moncloa UPM Campus. Currently, the platform includes a total of 100 sensors distributed along the Campus, measuring people activity and environmental data both indooor and outdoor. For morr details, please visit our real time dashboard.